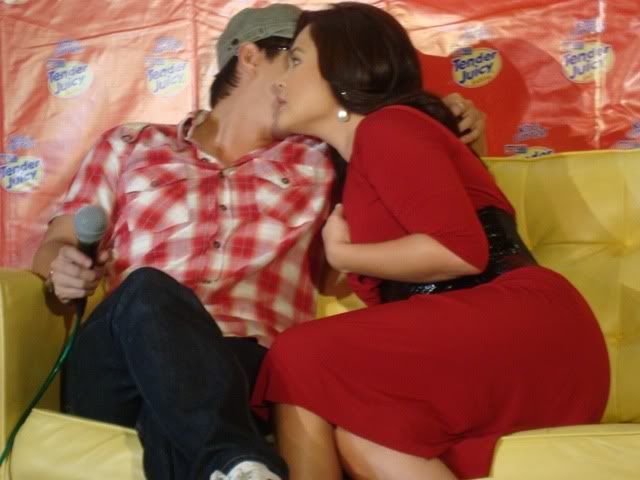 You have probably seen the new commercial of Purefoods Tender Juicy Hotdog featuring Judy Ann Santos, Ryan Agoncillo and their daughter Yohan. The TV commercial features the family's love for the best tasting hotdog which has been the favorite since the couple's younger years in the 80′s until the kids' generation of today with Yohan.

I'm privileged to have attended the presscon of the new TVC and was glad to see the couple Juday & Ryan for the first time. The press' questions went smoothly and most of the time asks about Yohan's getting into the same path as her parents. The couple seems to be comfortable to have allowed their daughter do some TV commercials however they mentioned that the timing was just good since Yohan is off from school and will have to say no to some projects once their daughter go back to school.

My personal opinion is that the Agoncillo family has been very in demand to product endorsements lately which made me asked the question to Ms. Hasmin Huang, Group Product Manager of Purefoods Hormel for choosing, Judy Ann, Ryan and cute Yohan to do the new Purefoods Tender Juicy Hotdog commercial. Ms. Huang said that the Agoncillo family, is they think the ideal family in the industry that will fit to Tender Juicy Hotdog's campaign since they're very relatable to a lot of people despite the celebrity status of Judy Ann being an actress and Ryan being a host. The management of Purefoods believes that they're a fun family and the perfect choice for this commercial.

The TV commercial launched last June 15 has a new campaign, from the lines "Kids Can Tell" is now "Kids Noon at Ngayon" to cater not only to kids but also to everyone who are young at heart and have grown with Purefoods TJ Hotdogs.

Honestly, I wouldn't want to eat a hotdog if not a Purefoods brand and you wouldn't really mind if the price is quite high compare to others because you are paying for the quality and taste Purefoods is known to.