There is not much to say about Jose Javier Reyes' last forays into commercial filmmaking, where it is undeniable that his moviemaking process begins with who will take lead roles, and the goal is only to ascertain box-office success even in the context of the much-reviled Metro Manila Film Festival in the Decembers of our lives. Suffice it to say that I could only be excited by the thought of Reyes going indie, and when I say excited I mean I had the lowest of expectations, but was willing to be surprised. He must have something up his sleeve, I thought. I trust that he does.
I remember too that last time I saw the famed and famous directors going indie, and how it meant Peque Gallaga going all "Agaton and Mindy" on us, and Soxie Topacio going in the direction of "Dead Na Si Lolo." Those were good days.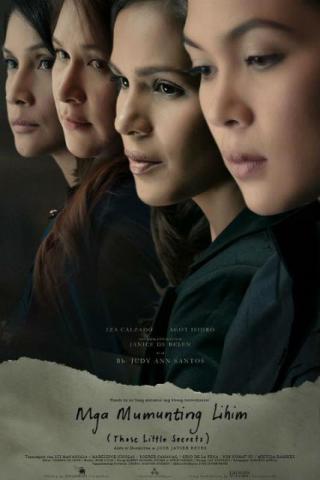 "Mga Mumunting Lihim" tells the story of four friends, all adult women, in conversations that were real and hit close to home.
Gladly, "Mga Mumunting Lihim" might go on that shelf, too. And I don't know if it was because I had just seen Raymond Red's "Kamera Obskura" before it, but I sure was taken by this story of four friends, all adult women, in conversations that were real and hit close to home. It could also have been the fact that there was something distant still about this narrative, and I could forgive it many things including its use of the flashback as storytelling device.
The story begins at the end, where one of them, Mariel (Judy Ann Santos), dies of cancer, and the rest of the three women are forced into the downward spiral of loss and grief that only very close friendships know to be possible. But the death is the unraveling of this friendship too, and this is no quiet and calm undoing. Instead it is this: Mariel leaves her diaries with the one friend she's kept the longest, Carla (Iza Calzado), and the latter can't help but read one diary to the next. The unraveling as such is not in the control of any one of them who are alive; Carla's own issues about taking control and being the leader of the pack made her willing victim to these secrets left behind.
Because that's what those diaries held, Mariel's articulations of what they've left unsaid in their small group that includes Olive (Janice de Belen) and Sandra (Agot Isidro). Her bravery is only measured by the fact of having left those diaries behind to someone, instead of letting the words die with her.
Certainly these friends weren't honest with each other enough, couldn't deal with their insecurities and opinions as openly as they should have. And yes, this is believable, where women's friendships are not always a version of Carrie, Samantha, Charlotte, and Miranda in "Sex and the City," and instead can be versions of Betty and Veronica, yes the comics characters, in real life, though maybe not as one-dimensional.
The latter is what's revealed about the friendship of Carla and Mariel, where competition and envy is the thread that runs through their relationship from elementary. It is in the fact that Carla became a career woman, big shot advertising executive, while Mariel is the perfect housewife, mother of two kids, but with a good head on her shoulders. Olive and Sandra are so different from Carla and Mariel, it is a surprise that they are friends.
Olive is the housewife, whose interest in younger men has meant a necessary put-down from the other three girls. Olive is perennially in need of money, working overseas as her young husband is, and has asked all of the three other girls for loans at different points in their friendship. Sandra is the one who married an old rich man who gives her everything she wants, and which transformed her into the monster member of the nouveau riche. Her conversation is superficial, about the things to acquire and the days she fills with house renovations.
The nuances of each woman's character are revealed through flashbacks borne of the diaries on the one hand, current conversations among the three living friends on the other. Those present conversations of course are tainted by what Mariel says in the diary, secrets that Carla cannot keep from Olive and Sandra, because she is amused by these revelations, too. Of course the entertainment only lasts for as long as she isn't the subject of Mariel's words, as long as she's not the one being faced with words that are about her.
Meanwhile, the entertainment for the audience is in the fact of real conversations among women who are familiar. When Carla, in the guise of clearing the air, sits the two girls down so they might all deal with what they've said about each other to Mariel, it becomes a free for all that is revelation in itself: how have these women survived their differences? Sandra is angry because her matapobre self makes her the meanest one of the group, and she isn't used to being called out. Olive meanwhile will not have any of it and wants to walk out—she is the kindest and calmest of them all, and refuses the engagement. But Carla is used to getting her way and so the undoing happens in public, turning all of them into the stereotype of bungangera, with plenty of good ol' Filipino curse words thrown in.
Suffice it to say that this might be one of the better conversations to be had in this film, also one of the more refreshing ones. And did I mention fun? This might be said as well about the scenes that flashback to when Mariel was still alive and she and the rest of the girls could go drinking and space-brownie-eating, talk about dildos and sex and men. This was in the individual conversations between the girls, where they could reprimand each other, or fall quiet and let another tell her story. The banter here is honest, the dialogue real. This would also be why it was believable, the way these friends handled Mariel's cancer: they did so without losing their capacity at laughter, within the same conversations, that were quieter and more introspective.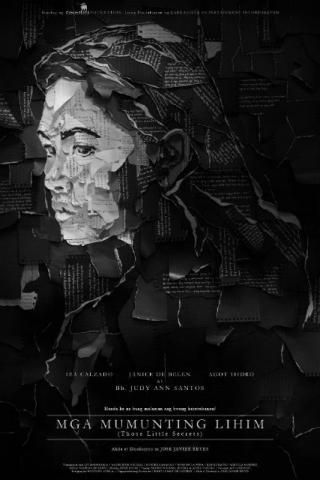 An audience of Pinays will know themselves better through this film, if only because the mirror they're forced to look at reveals reflections that aren't shiny and perfect, stereotypical and conventional.
Of course the success of these characters had a lot to do with this cast of four actresses, who across the board did their characters well and to the hilt. Calzado seems to have had the shorter end of the stick here, where her character isn't quite established as powerful career woman, and that perception is created only through Mariel's words. This failing is the reason why when she ends with throwing some curses in the direction of Mariel's ashes, her anger barely makes sense, and the movie ended with less than the bite it set itself up for.
The rest of the three actresses are given much more to work with. Isidro as matapobre and superficial doesn't falter at any point, and her shining moments are in the instances when she doesn't have any dialogue and yet her demeanor, her face, the way she carries herself still speaks of the kind of person she is. Santos is brilliant as expected, and what astounds you, if you've watched her commercial films, is her ability at holding back, letting go of the excesses that Mother Lily's and Star Cinema's brand of film likes to see in its actresses. It's like "Ploning" all over again without the enterprise of making an indie film. Here, it's just Santos-becomes-Mariel, discontent and unhappy, grateful and tired, at the point of dying.
But it might be de Belen who shows us what acting is all about here, where you forget completely who she is and you only have Olive: simple and simplistic, will take the more harmonious route anytime, will refuse to speak ill of anyone. She seems almost slap happy, has conceded to being less sophisticated than her friends, and de Belen hits that out of the ballpark, allowing Olive's insecurities to complete her character. What you're left with is a very clear and concrete sense of an Olive that exists in real life, like the aunt who will shower you with love, or the older sister who will have stories about the neighbors, both will cook you a hot fresh meal anytime.
But more than having a set of believable characters, what "Mga Mumunting Lihim" gives you is a set of real women, who have conversations that are fun and heartfelt, even as you know that alongside these conversations are the silenced and unsaid. I understand why the independent filmmaking universe is wont to dismiss this as a bad film, for reasons that would have everything to do with having Reyes at the helm. Yet in light of an audience of women who might only watch commercial romantic-comedies and dramas, much might be said about this movie's value.
Because an audience of Pinays will know themselves better through this film, if only because the mirror they're forced to look at reveals reflections that aren't shiny and perfect, stereotypical and conventional. At least the audience is given a world of women that isn't American, and isn't stuck in notions of love and romance, and the perennial search for a happy ending. Instead Mariel, Carla, Sandra and Olive treat us to being women in these shores, given the friendships that we form, the competition we fall into, our own undoing in this dynamic. At the very least, we are told that we might handle our friendships with other women better, that we listen to each other a little more, laugh and drink and be merry more often, too.
And in the context of romances with happy endings, prettified women's roles even when they're OFWs and cancer patients, struggling members of the working class or glorified prostitutes, the Pinay audience can only be better off with a film like this one. There's no convincing me otherwise. –KG, GMA News