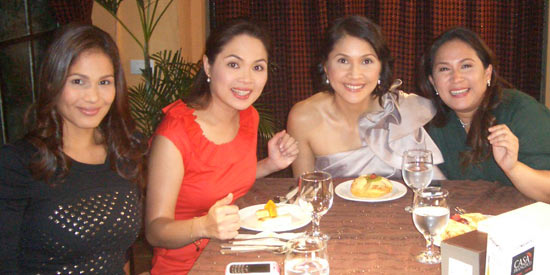 Jose Javier Reyes likes to refer to his Cinemalaya entry,
Mga Mumunting Lihim
, as a "main-die" since it features mainstream stars but has the "indie" spirit. The plot is quite unconventional and features an ensemble cast of today's top-billing actresses.
The movie tells the story of four female friends, led by Mariel (Judy Ann Santos), a housewife. When Mariel dies from cancer, she leaves her diaries to her best friend Carly (Iza Calzado), a top advertising executive. Upon reading the diaries, Carly discoveres the secrets of her two remaining friends Olive (Janice de Belen) and Sandra (Agot Isidro). Soon, the secrets ruin their friendship. But what was Mariel's real intention when she left the diaries?
What's most admirable about
Mga Mumunting Lihim
is the tight storytelling. The movie uses a lot of flashbacks to tell back stories, and these help the plot move along, instead of muddling it.
The use of flashback also strengthened the director's use of repetition. Several scenes were repeated throughout the movie, with each repeat having more weight because of a flashback that gave it more significance.
There is also an effort not to drown in sentimentality, unlike mainstream dramas. Scenes are more realistic, and the dialogue is written like how it would be said in real life.
This makes the movie really entertaining. Where else can you see Iza, Janice and Agot use curse words and shout at each other while fighting? Janice even uses the dirty finger, which might shock some viewers.
And where else can you witness a character reconcile with a friend by cursing her? These scenes make
Mga Mumunting Lihim
a must-see in this year's lineup.
Judy Ann, Iza, Agot, and Janice complement each other's performances. The scene where they drink and get high on spiked brownies is absolutely hilarious.
Mga Mumunting Lihim
is one of the 5 entries competing in the Director's Showcase category of the 8
th
edition of Cinemalaya. It is being screened at the Cultural Center of the Philippines, Greenbelt 3 and Trinoma until
July 29
, 2012.
(
CLICK HERE
to read all about this year's competing entries)
(
CLICK HERE
to view screening schedules)